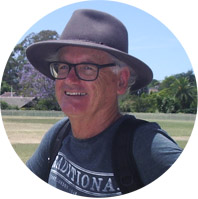 On Sunday 2 February, we voted in our new Committee of Managers, who together with the Elders and Ministers, make up the church board for 2020. Over the next few weeks, we will be introducing you to the members of our board, to find out a little more about who they are.
What congregation/service do you normally attend?
the Creek Road morning service
What do you do as a job/vocation?
I am retired from paid work. I used to work as a pharmacist.
Tell us a sentence or 2 about yourself or your family
I am married to Sue and we have three adult daughters living interstate ( 2 in NSW and 1 in WA) and they have produced our 9 grandchildren
How long have you been a Christian?
I became a Christian when I was 18yo, so that is some time ago
What do you hope God will do through our church this year?
My hope is that God will continue building his church at Living Church across the 3 campuses. In "building" I mean that people will be built up in character and Christlikeness, and that new people will be built into our local body of Christ. My hope also includes the coming of a new senior pastor to commence work in 2021, if not before.